words Across Water
Mots à Travers l'Eau

Dimanche 23 octobre de 14h à 16h – entrée libre
Poésie et Musique d'Ecosse
Poetry and Music From Scotland
Halle Saint Pierre – à l'auditorium
Réservation conseillée : 01 42 58 72 89
Poetry and Music from Scotland to strengthen our European cultural connections
and to honour Rita O'Donnell Las Bleiz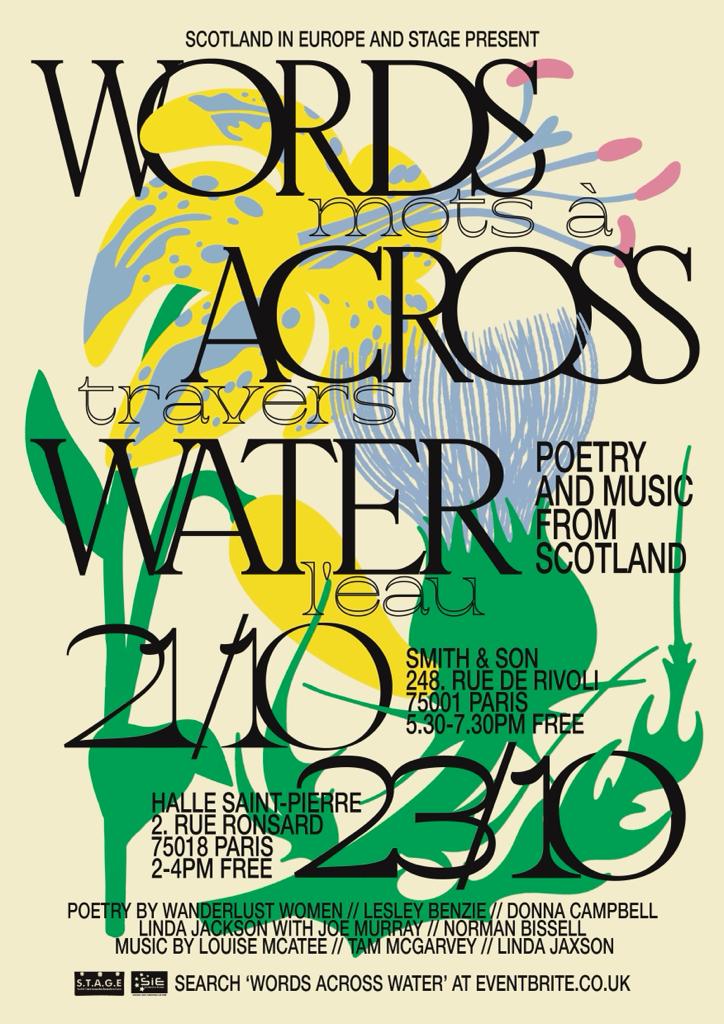 Scotland In Europe presents Words Across Water, in honour of Rita O'Donnell Las Bleiz, featuring Scottish Writers and Musicians including :
MEET THE PERFORMERS ON FACEBOOK
The Wanderlust Women who are Lesley Benzie, Donna Campbell and Linda Jackson.
Finding themselves limited with few or no travelling opportunities during the Covid Crisis, they began looking back and writing about previous movement in and around our own country and farther afield.
Wanderlust Women is a collaboration bursting with energy.
Yes, a lust for travel, wandering: Scotland, France, Italy, Syria, Australia, India, Ireland are some of the destinations. There is also a different kind of travel, an exploration of all that's important in human life, everything that matters to the heart: its sorrows, disappointments, frustrations. There's no flinching about taking us to its darkest places and to its softest most tender parts. The poems explode in performance and on page: intricate layers, lacing physical travel with emotional journeys. An exploration of relationships, possibilities, endings, hopes, destruction. And questions, of the best kind, about: political choices, suffering, history, consequences. (Review: Sheila Templeton Writer)
Norman Bissell is an island writer. Author of the poetry collection Slate, Sea and Sky, A Journey from Glasgow to the Isle of Luing, with photographs by Oscar Marzaroli, and the novel Barnhill about the last years in the life of George Orwell, both published by Luath Press. He is the Director of the Scottish Centre for Geopoetics and lead editor of 11 issues of its online journal Stravaig. An experienced essayist, teacher and performer, he is currently writing a creative non-fiction book Living on an Island, Expressing the Earth with financial support from Creative Scotland.
Joe Murray was, for the first twenty years of his working life, a pipe-fitter/welder in oil construction. He is now an ecologist, poet, writer and former university lecturer in Environmental Science and Sustainable Development. He was a founder editor of West Coast Magazine, Taranis Books and Mythic Horse Press. For many years, he was a children's learning manager for the National Trust for Scotland. His poetry is found in a many publications including: the Scottish Centre for Geopoetics, New Writing Scotland, World Poetry Movement and the Federation of Writers (Scotland).
Louise McAtee and Tam McGarvey have played in bands since meeting at Art School in the early 90s. Sharing their love of country, roots and folk music they perform a set of warm and wonderful songs, their own compositions as well as those from Emmylou Harris, Nanci Griffith, Bonnie Raitt and Gillian Welch.
Linda Jaxson has wowed audiences since her teens with the fabulous vocal dexterity she applies to a wide range of music from folk, pop, blues to Americana. Where her voice travels you will follow…